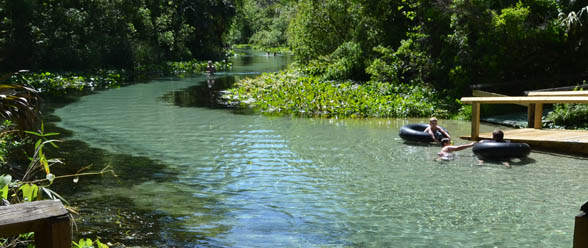 A free flowing natural spring in Apopka, Florida
Dr. Howard A. Kelly Park, often called Kelly Park, is a protected reserve maintained by Orange County, Florida. The park is open to visitors year round and features crystal clear streams for swimming or tubing. As a reserve, the landscape and wildlife are undisturbed giving guests an immersive natural experience. Large trees and subtropical plants line the curving streams as fish swim along side you. The park is also inhabited with turtles, dear, the occasional bear and alligators. (Yes, really.)
Kelly Park is friendly to families with small children, the park features a large naturally shaded playground settled among large trees. Camping areas, cookout facilities and bathrooms are also within walking distance.  Parking is also conveniently located near all of the primary points of interest.
Media Gallery Below:
KELLY PARK
Address:
Kelly Park
400 E Kelly Park Rd,
Apopka, FL
Website:
http://www.orangecountyfl.net/CultureParks/Parks.
Hours of Operation:
Summer: 8 a.m.- 8 p.m.;
Winter: 8 a.m.- 6 p.m.;
Phone Number:
(407) 254-1902
Admission:
$3 per vehicle for 1-2 people
$5 per vehicle up to 8 people
Click for Map: https://www.google.com/maps/preview?oi=map&q=400+E+Kelly+Park+RD,Apopka+FL,+32712 
Kelly Park
was last modified:
April 28th, 2017
by