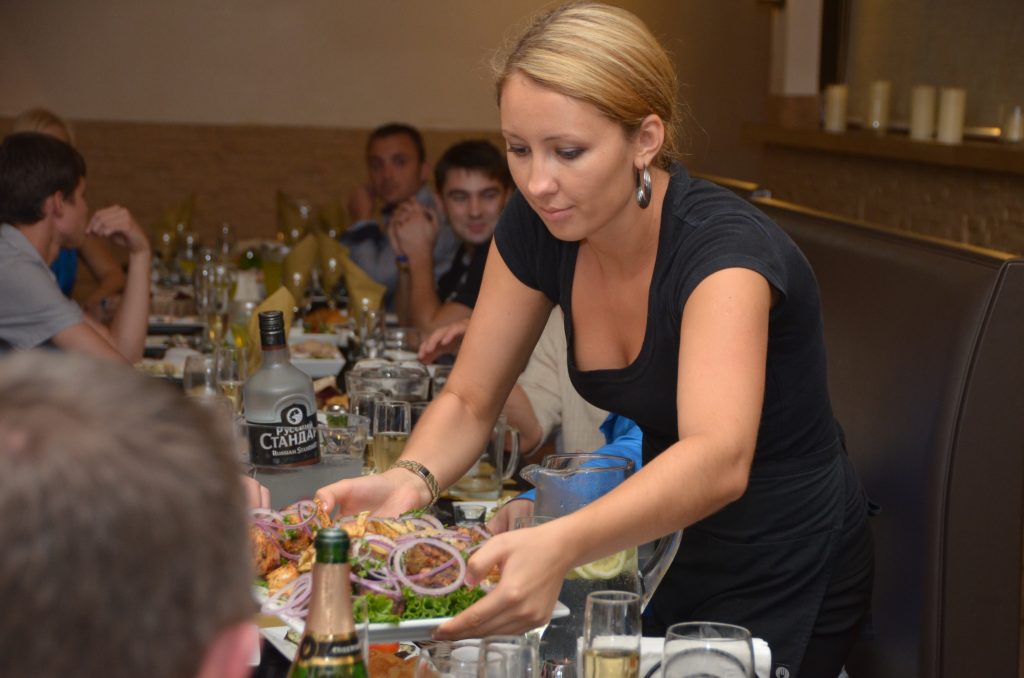 Russian Markets, Deli's and Restaurants are the heart of each Russian community. They are more than a "supply" of exotic food, they are the crossroads of all Russian speakers. Most restaurants include a shop or market so visitors can purchase hard to find items that are not commonly available. It's important to point out that Russian restaurants or markets are not only for Russian speakers, they are friendly places that welcome everyone.
Americans are welcome in Russian restaurants
If you are curious to taste Russian style cuisine, you can stop in for lunch or dinner (see locations below) and simply let your server know that it's your first time. They will be delighted to explain the dishes and make recommendations. Most locations have menu's in English and Russian and also include photos to help in selecting your choice.
Interesting differences in Russian and American restaurants
Dining in East European homes or restaurants is more of an event than in the West. It is perfectly normal to meet for a meal and talk for several hours. This is an important difference compared to American culture, where the servers tend to bring things quickly in order to rotate the table several times in a single evening. Keep this in mind if you feel the service is a bit "slow", it's simply not expected that you wish to rush.
Here are some intriguing facts to help with expectations when you visit a Russian restaurant
Everything is made from fresh ingredients
Drinks are served at room temperature unless you request ice, this includes soda and water
Reservations are not required but encouraged due to limited space in most locations
Each restaurant or deli is unique, there are no chains or duplicate styles
The term "Russian" regards the language, not the restaurant owners nationality
Many post soviet countries still speak Russian
The owner may come and greet you and learn your name – next time you come they remember it :-)
When in doubt about what to order, try the Shashlik (seriously)
See All Russian Restaurants in our Business Directory
Florida Russian Lifestyle Magazine is delighted to recommend the following stores:
Russian Restaurants in Florida

Orlando

Ararat Euro Food & Bistro
7540 Universal Blvd
Orlando, FL 32819(407)351-3131

"Our Highest Recommendation"

-Florida Russian Lifestyle Magazine



View Larger Map
 Ararat Euro Bistro – Images





Winter Park

Lacomka Bakery & Deli
2050 N. Semoran Blvd. Unit 140
Winter Park, FL 32792

(407) 677-1101




View Larger Map

Kissimmee

Russian Market
4147 W. Vine Street (192)
Kissimmee, FL 34741

407 933-0091




View Larger Map

St Petersburg/Tampa


St. Petersburg Nights
6800 Sunset Way
St. Pete Beach, Fl 33706

(727) 363-3832




View Larger Map

Sarasota


A Taste of Europe
2212 Gulf Gate Drive,


Sarasota, FL 34231





View Larger Map

Miami


Tatiana Club & Restaurant
1710 Beach
Hallandale Beach, FL 33009(954) 454-1222
 Tatiana Club & Restaurant – Images
Interactive Map of Russian Restaurants and Markets in Florida