On December 6, 2012 Florida Russian Lifestyle Magazine reached another milestone in online page views. The electronic magazine, which began in July 2010, exceeded the 12 million page view mark. The online views, which are measured by issuu.com, quickly accelerated past the 12 million mark and continues to grow throughout the day.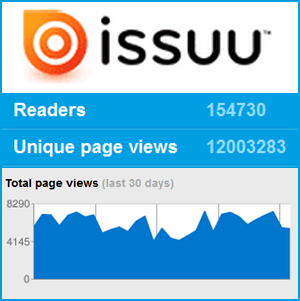 Traffic has been surging with the recent release of the New Year version, and the news of an upcoming release of the free iPad application.
"We're about to take the next step in our publishing…", said Jef Gray CEO of American Experience. "We've reworked our magazine to have more interactivity and digital content, so the reader gets an article with more images, thumbnails, video, links to additional content and more!"
The release of an iPhone app in 2010 was the first step into the mobile journal space, and was also a first for Russian magazines in the Apple store. Now the iPad version emerges with tremendous advantages over the online and iPhone versions. Not only will the content be media rich but advertisers can also present more comprehensive ads that enable a viewer to click for more, send an email message or watch a video showcasing a product or service.
Florida Russian Lifestyle Magazine is published by American Experience LLC and is a founding sponsor of the Russian American Community Center of Florida and the Orlando Russian Culture Society.
For advertising, sales and distribution opportunities  contact:[email protected]