On July 1st we reached a new record in online readership. Our total pages viewed reached the 7.5 million mark. This was the completion of our first year as a magazine with a total of 5 issues released in that time. We want to thank our 100,000+ readers, fans, models, writers and photographers for making this happen!
A very special thanks to Irina Ivanova, our Chief Editor for this achievement. Without her efforts, we would not have finished the first issue, let alone 5 with another on the way! :-)
"The staff are on a much needed summer break at this time, and will return in the autumn to resume operations, which include plans for the iPad version, and more interactive content such as embedded videos, pod-casts and contests for readers. There is also a consideration for an English version either in a separate publication or side by side if the layouts are manageable", said Jef Gray, CEO of American Experience LLC.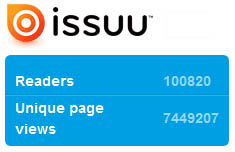 The measurement of page views is calculated by a third party, www.issuu.com where the magazine can be viewed online. Issuu also hosts previous issues of Florida Russian Lifestyle Magazine for archival purposes.
The online page views do notinclude readers of the magazine who interact through the iPhone app, website or RSS feeds. The number of all readers through each channel is much higher, and is composed from readers in over 35 countries worldwide.
Florida Russian Lifestyle Magazine is published by American Experience LLC and is a founding sponsor of the Russian American Community Center of Florida and the Orlando Russian Culture Society.
For advertising, sales and distribution opportunities  contact: [email protected]