The historical and ecological value of Tampa's Egmont Key can only be understood by experiencing it first hand. The small island is about 30 minutes from shore with several options for transport including shuttles and private water taxi. The trip is well worth it, once you arrive and see how much there is to do on this unusual tropic getaway that has been lost in time.
There are two sides to the island, one which faces the Gulf of Mexico, features large sea shells and stronger waves. This area is great if you enjoy the more traditional scene of a beach front and enjoyable scenery for walks. The other side faces the bay and is calmer-making it more friendly to snorkelers and swimmers. Fish are abundant here, as are shells and sand dollars. Within minutes you will spot them in the water or on the beach and begin your collection.
Between the shores is an unusual mix of history and ecologic effort. A large portion of the island has been marked off to preserve bird life and endangered species. Gopher tortoises are numerous and interesting to see as they borough underground rather than walk in the open. A ghost town exists on the island, once known as Fort Dade-it was built in 1898 as a protective outpost against the Spanish-American War. The fort had over 300 residents and a fully operational community with brick roads, electricity, telephones, a hospital, jail, movie theater, bowling alley and tennis courts. The remains of the fort can be explored without restrictions. This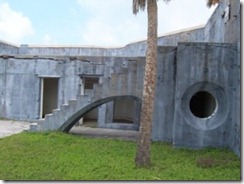 area looks much like something out of a science fiction movie or the latest episode of ABC's "Lost". Large curved walls and platforms that once were the main structure of the fort, are all that remain.
Cruise ships can be seen from the beach, making their way into the Gulf with destinations in Mexico and the Western Carribean.
A lighthouse, dating back to 1830, makes this island easy to identify from a distance, and can be seen up close when exploring the area between the Gulf and bay shores. There are many points of interest,including the fish preserve, where huge construction elements were placed in the water to encourage marine life to populate the waters. Boaters often use these as platforms to jump from while others enjoy the underwater scenery of the fish.
If you can visit only one island in the Bay Area-this is the one to select. Be sure to bring a camera and lots of sun block as the cool wind can deceive how intense the sun really is. On the way back to the mainland, you are likely to see wild dolphins chasing your boat. The local boat captains know when to slow down so the dolphins will appear. It's quite amazing to see them jump along side the boat as everyone cheers them on. The wild dolphins are the grand finale to an amazing day at Egmont Key.