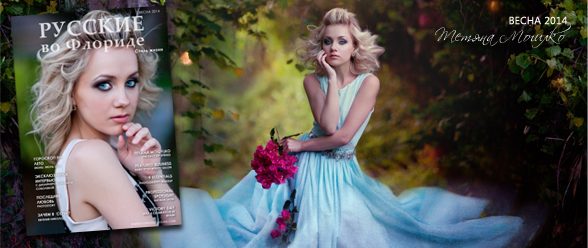 This month marks the fourth anniversary of our journal and website! In May 2010 we had an idea, to build a media
conglomerate of web, magazine, TV and radio that centered around the lifestyle of Russian speakers in Florida. We wish
to thank all the writers, editors, photographers, models and advertisers who have donated so much to build the media
project. While the TV and radio portion waits for the right time to launch, we're delighted at the worldwide response
and appeal we have experienced over the last 4 years.
We present you with our largest issue to date and hope you will enjoy and share it with your friends and family.
Spring 2014 Issue:
Cover Model: Тетяна Могилко
Гороскоп На Лето
Эксклюзивное Интервью С Дизайнером Галиной Соболевой
Natalia Leon
Зачем В Сочи?
Neposedy In Orlando
Kelly Park
9 Essentials Of Photography Makeup
Euro Style Beauty Salon Opens
Victory Day In Miami.