Florida Russian Lifestyle's new job board (Click to View) provides free listings from aggregate job boards to the communities of Florida. The launch of the project started quietly last week but as jobs began to populate the site, visits began to skyrocket. Within days the site was averaging 5000 daily job views and more visitors are expected as the search engines and social media continue to promote the listings.
Twitter response has also been very encouraging as followers have begun to share postings with friends. Employers are also stepping in to list their jobs on the site's free interface, allowing them to broadcast to a larger audience and receive resumes and applications directly in their email.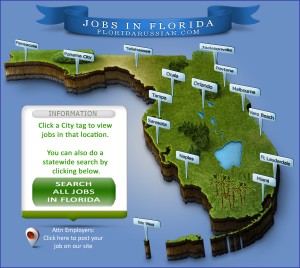 The idea for adding the job board came when the magazine publisher, Jef Gray, received multiple requests from readers and colleagues about finding work or potential hires. "We have always received requests for help in finding work from people who want to move to Florida, but in the last few weeks it's been much higher than normal. Some are newly arrived or they are a business looking to take on staff. It made sense that a magazine that presented content about life in Florida would also offer relevant resources such as job searches, rental and real estate opportunities and so forth." said Gray.
The job board begins with an interactive 3D map of Florida where viewers can click a location on the map and see a list of recently posted jobs in that area.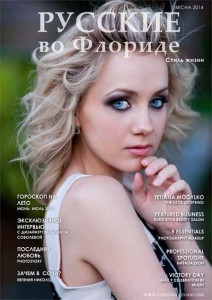 Founded in 2010, Florida Russian Lifestyle is a free electronic magazine provided by Aurous Publishing. The quarterly magazine features original articles about the lifestyle of Russian speakers living in Florida.  The designers took full advantage of electronic publishing tools, including use of an HTML5 interface for interactive viewing on any mobile device. Read online in 140 countries worldwide, the online journal was selected as the official magazine of the Russian-American Community Centers of Florida in 2011.