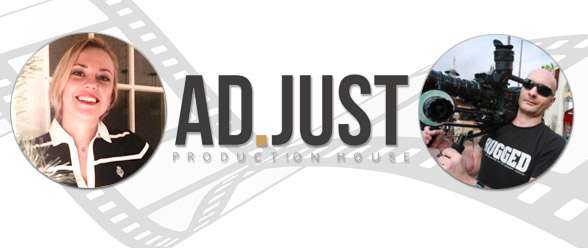 Moscow Film Makers Relocate to Florida
Meet ALEX FEDOTOV and YANA NESTEROVA, the husband and wife team of AD.JUST Production House. The pair have relocated their careers and talent to Florida and recently set up shop in Orlando.
Florida Russian Lifestyle Magazine recently sat down with Alex and Yana to learn more about their story, a tale beginning in Moscow and continuing into an unexpected opportunity to move to the United States.
Music video SHOWREEL. MUST SEE! from Alex Jopson on Vimeo.
FRLM: Let's go back before your arrival in Florida, tell us about your life like back in Moscow.
AD.JUST: "We had a good life in Moscow, in fact it took a lot of soul searching to give up the level of success we had achieved there in order to make the move to the US. Alex was making documentaries and commercials for high end clients including Pepsi, Nestle and others. He also was a leader of a rock band famous with CKSA Football fans for a song named "Red-Blue Warriors". Alex also wrote a hymn that was used in a national football TV commercial for Pepsi." Explains Yana, "Meanwhile I was working in a prominent marketing firm as a strategy director for top accounts."
FRLM: It sounds like life was good, what prompted the idea to change direction and location to the other side of the world?
AD.JUST: "The opportunity came in the most unexpected way, Alex had made several attempts at the green card lottery and after being turned down, gave up. But a friend of his was applying and had several members of his family that he included in the application. He had a few spots left and put Alex on the list as a gesture of kindness. Of course we did expect this to go through, but sure enough the application for the guy and his family was denied—but Alex was approved!" Yana said.
"The guy called me and told me I got it and I didn't believe him. I thought he was just joking around until I saw the paper and realized it was true." Alex explains.
FRLM: Such an unexpected opportunity at the time when you're already successful must have taken time to decide. Obviously you decided to make the move but how did your family react?
BARBARA BUTTRICK. Legend of Women Boxing (documentary video, Miami) from Alex Jopson on Vimeo.
AD.JUST: They were very supportive and felt we should do it. The common statement among our families was, "You can always come back if it doesn't work out but you owe it to yourself to try. Otherwise you will always wonder what might have been."
FRLM: So there you are with the opportunity to finally come to the US, but where did that idea originate. Why the USA or even Florida?
AD.JUST: Alex laughs, "I was playing Grand Theft Auto as a kid, and all these scenes of different cities in America made an impression on me. And I began to dream of what it would be like to actually see those places. That's where it started." He shares, "As for Florida, we considered other cities such as New York, Chicago or LA but we wanted to start somewhere less intense. So we could ease into life in America."
FRLM: You started out in Naples then moved to Orlando. What is your advice for others who are coming to the US?
AD.JUST: It really helped to pick a smaller town so you can make a soft start. The bigger cities have much longer processing times for getting your documents and acclimation. Smaller towns are not as overloaded and people are more friendly and helpful. We were able to stay with friends in Naples that helped us to take the next steps as we got more accustomed to life here. We highly recommend it over the culture shock you might experience in the larger cities.
FRLM: Was there a period of culture shock when you arrived in the US?
AD.JUST: Yes but in a pleasant context. Of course the first 3 we were figuring out how things work and we found it's completely opposite to the way it is in Russia. For example: You can send something through the post office and it will actually arrive. Driving is much easier, all directions are presented in writing, not just a symbol and you have to know it.

FRLM: Has one thing stood out the most in adjusting to life here?
AD.JUST: "I'd say the way senior people live here." Explains Yana, "They are not sitting at home watching TV, they are active and still doing things in life. It's a huge difference from life in Russia.
FRLM: You came from a big city to the typical Florida suburb. What is your impression of having so much wild life around you?
AD.JUST: Alex laughs , "We were shocked at first, the birds, alligators, and so on. But the most ironic thing is we come from Russia and never saw a bear until we moved to Florida. In our first place we had one breaking in to the trash three times a day.
FRLM: How has your education in Russia transitioned to the American system?
AD.JUST: "Alex graduated from the Moscow Institute of TV and Radio Broadcasting and I graduated from the Moscow institute Industrial Art." Yana explains, "We are aware we can have those degrees validated here but we feel it's better to pursuit classes at local universities to get a first-hand exposure to American processes. So we're going in that direction."
FRLM: You're setting up a new business in a foreign country. What comparisons have you been able to make between business here and in Moscow?
AD.JUST: "The level of production here is much simpler than in Moscow. When we meet with clients they often do not have a functional marketing strategy. This actually works in our favour with Alex's experience in production and mine in Marketing. With our input, our clients often change their plans to clearer objectives as we work through their commercial, product or project. Plus, the difference of European style filming makes our work more unique." Said Yana
Ice cream commercial, Orlando, FL from Alex Jopson on Vimeo.
FRLM: How do the clients respond to doing things in the manner of large marketing firm's vs the simpler small business approach?
AD.JUST: "This is a very different experience for them compared to previous video production companies that essentially gave them what they asked for without offering the expertise we bring to the table. That's really our strongest selling point, the experience we bring in both production and marketing to any project."
FRLM: There is no doubt in the value of video, especially in the online world of social media and websites. But has video reached an affordable level for the average small business?
AD.JUST: We spent a lot of time developing a price model that fits the client budget without sacrificing quality work. The average cost for a typical commercial is around $1,500 – $2,000 which covers the necessary development costs and time needed to make it "Pop" when the customer sees it. Of course the larger the project the more time and cost.
FRLM: What advice would you give to aspiring film students who want a career in production work?
AD.JUST: Specialize in the type of film you want to work with. If you're too broad, you'll just be a guy who makes videos. But, if you love sports then focus on being a sports videographer, or corporate video, wildlife, events, etc. That way you can improve on the exact skills for that genre. Beyond that, you absolutely need to practice and develop your craft. Shoot every day and you'll see improvement over time.
FRLM: What projects have you worked on since your move to the US?
AD.JUST: We did a documentary about the first woman boxer in the world, she is from the UK but lives in Miami. We also made several commercial for local vendors, they are available on our website.
FRLM: AD.JUST was also recently selected as the videographer for IZUMINKA, the Russian-American Communities Fall Fashion Expo. See the video below:
Izuminka'14 Fashion Show Teaser from Alex Jopson on Vimeo.
To learn more about AD.JUST's products and services you can visit their website http://www.adjustproduction.com or call and speak with Yana +1-239-249-9339
Author: Jef Gray