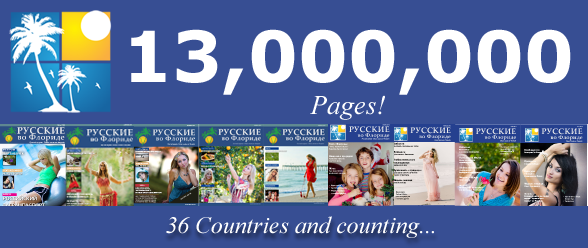 On May 25,2012, Florida Russian Lifestyle magazine reached another milestone by passing the 13,000,000 page view mark. The accomplishment comes on the 2nd year anniversary of the magazine's launch and the day it's 3rd  iPad application appeared in iTunes store.
"It's exciting to see continued growth in readers and fans each month", said Jef Gray, Publisher and CEO of Florida Russian Lifestyle Magazine. "A magazine about Florida, written in Russian, has a far reaching appeal–we see it in the daily visits from all over the world and our following in social media sites."
The page view measurement does not include views from the mobile channels, such as iPhone, Kindle Fire, Android and iPad where the Russian journal is also viewed and downloaded.
Florida Russian Lifestyle Magazine is an American Experience company serving the Russian community of Florida since 2004.