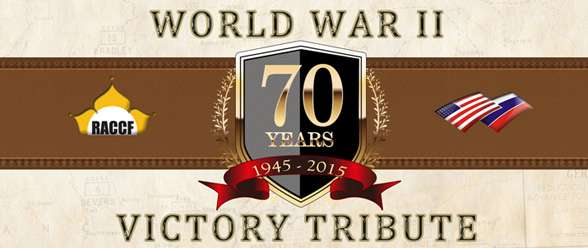 It was almost 70 years ago that Soviet and American troops met near the German city of Torgau. There on the river Elbe, both nations joined together in what would be the turning point of World War II. Within weeks the war was over and victory over the Nazi's was achieved. While much is known about the famous "May 9 Victory Day", celebrated en masse throughout Eastern Europe, Elbe day is often a forgotten milestone in the collection of memorable moments of the war.
The Russian-American Community Center of Florida is looking to bring awareness to the significance of Soviet and American forces, fighting alongside each other, to achieve victory. During April 2015, the center along with numerous affiliate groups throughout the state of Florida will sponsor a 1500 mile road rally traveling through cities throughout the state and nation in a motorcade of volunteers.
View of the custom painted lead car in the World War II victory tribute road rally. [Shown Below]
The Rally, will make stops at various points to distribute flyers and honor veterans from post Soviet and American forces. The route includes organized stops in Naples, Miami, Orlando, St. Petersburg, Clearwater and Talahassee. While at the state capital, they will lay a wreath at the World War II monument. From there the group continues north to Atlanta, GA where they will meet up with local activists to distribute flyers and show their exhibits. The final leg of the journey continues to Arlington cemetery in Washington, DC.
A special ceremony will take place at Arlington, and the group will be there to lay another wreath at the Spirit of the Elbe plaque. Many World War II veterans will be in attendance, including some from Florida. The rally will conclude at the Russian Embassy where a special reception has been arranged via the Ambassador of the Russian Federation to the United States, Sergey Kislyak.
"The timeliness of remembering the joint victory of our joint nation's heroes is clearly relevant when the media is constantly advocating a sense of mistrust between our nations." said Jef Gray, President of the Russian-American Community Center. "Surely, we can look back at our veterans who worked together against fascism and realize the value and necessity of continued partnership."
Look for rally stops near your location via the planned route below:
Location
Place and Address
Date and Time
Event
Naples, FL
Liberty Plaza.

4947 Tamiami Trail North

Naples, Florida 34103

04/18/2015

Event 11:30 – 12:30

Begin convoy of automobiles South-East  for Miami

Road Rally opening ceremony.

Procession of cars, mini-concert, mobile photo exhibition

Hollywood, FL
Europa Gourmet Plaza

1422 S. Federal Hwy

Hollywood, FL 33020.

04/18/2015

Event 15:00-16:00

Convoy of automobiles on A1A road through the cities of greater Miami

Procession of cars, mini-concert, mobile photo exhibition
Hallandale, FL
Moving on Road A1A
04/18/2015 16:15
Procession of Cars, Spirit Rally
Aventura, FL
Moving on Road A1A
04/18/2015 16:30
Procession of Cars, Spirit Rally
Sunny Isles Beach, FL
Moving on Road A1A
04/18/2015 16:45
Procession of Cars, Spirit Rally
North Miami Beach, FL
Moving on Road A1A
04/18/2015 17:00
Procession of Cars, Spirit Rally
Winter Park, FL
Russian-American Center

2054 State Road 436

Winter Park, FL 32792

04/19/2015

Event  11:30 – 13:00

Festival with

"Military Field Ration" tasting.

Orlando, FL
Downtown Orlando

Kinneret Assembly Hall

515 Delaney Ave

Orlando, FL 32801

04/19/2015 14:00- 16:00
Gala-Concert
Orlando, FL
Ararat Restaurant

7540 Universal Blvd, Orlando, FL 32819

04/19/2015 16:30 – 20:00
Reception

"Veteran's Party"

St.-Petersburg
Florida Holocaust Museum

55 5th Street

St. Petersburg, FL 33701

04/20/2015 13:00
Meeting  with US veterans
St.-Petersburg
Russian-American Club

2920 Beach Blvd. South

Saint Petersburg, FL 33707

04/21/2015

Event  17:00 – 19:00

Commemoration meeting in honor of the  WWII victims
Clearwater, FL
St. Pete Clearwater Airport
04/21/2015 20:00
Meeting with WWII veterans- participants of "Honor Flight" Program
Tallahassee, FL
Florida World War II Memorial

500 S. Bronough St,

Tallahassee, FL 32399

04/22/2015 14:00 – 14:30
Wreath-laying ceremony at WWII Monument
Atlanta, GA
Downtown Atlanta

33 Carnegie Way

Atlanta, GA 30303

04/22/2015 20:00- 20:30
Procession of cars, mobile photo exhibition
Sandy Springs, GA
Russian School of Atlanta

1120 Hope Road

Sandy Springs, GA 30350

04/23/2015 9:00 – 10:30
Meeting with Soviet Veterans, mini-concert, mobile photo exhibition, breakfast with veterans.
Arlington, VA
Arlington National Cemetery

Arlington, Virginia 22211

04/24/2015 10:00
Wreath-laying ceremony at the "Spirit of the Elbe" plaque
Washington, DC
Embassy of the

Russian Federation

2650 Wisconsin Ave., NW

Washington, DC 20007

04/24/2015 12:00
Official reception