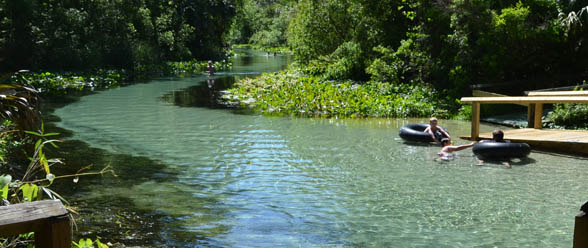 If you'v ever wondered where local Floridians go to enjoy their scenic hometown, Kelly Park seems to be on everyone's list. Theme parks are also a favorite, even when you live here, but the natural surroundings of Central Florida are just as amazing and engaging. Kelly Park is a free flowing natural spring in Apopka, Florida–just a few miles North of Orlando. The photo gallery in this article will help explain why it is often described with words of enchantment and intrigue. Crystal clear water, sceneic nature trails and places to cook out or camp are only the beginning.
[mbYTPlayer url="https://www.youtube.com/watch?v=gOZ4AY-r3qk" quality="default" ratio="auto" isinline="false" showcontrols="false" realfullscreen="true" printurl="true" autoplay="true" startat="15″ mute="true" loop="false" addraster="true" stopmovieonblur="false" remember_last_time="false" gaTrack="false" ]
About Kelly Park
Dr. Howard A. Kelly Park, often called Kelly Park, is a protected reserve maintained by Orange County, Florida. The park is open to visitors year round and features crystal clear streams for swimming or tubing. As a reserve, the landscape and wildlife are undisturbed giving guests an immersive natural experience. Large trees and subtropical plants line the curving streams as fish swim along side you. The park is also inhabited with turtles, dear, the occasional bear and alligators. (Yes, really.)
Kelly Park is friendly to families with small children, the park features a large naturally shaded playground settled among large trees. Camping areas, cookout facilities and bathrooms are also within walking distance.  Parking is also conveniently located near all of the primary points of interest.
Kelly Park Photo Gallery:
Where is Kelly Park?  Location and Hours
Address:
Kelly Park
400 E Kelly Park Rd,
Apopka, FL
Website:
http://www.orangecountyfl.net/CultureParks/Parks.
Hours of Operation:
Summer: 8 a.m.- 8 p.m.;
Winter: 8 a.m.- 6 p.m.;
Phone Number:
(407) 254-1902
Admission:
$3 per vehicle for 1-2 people
$5 per vehicle up to 8 people
Click for Map: https://www.google.com/maps/preview?oi=map&q=400+E+Kelly+Park+RD,Apopka+FL,+32712