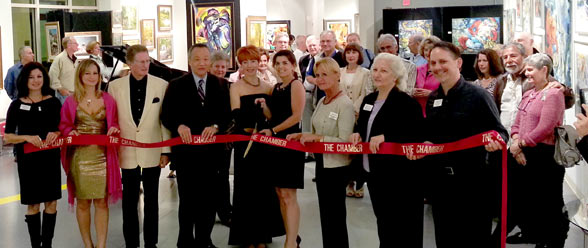 On January 25, 2013 Gallery on Fifth celebrated its Grand Opening Gala Exposition "From Russia with Art". The Gala Opening which attracted a publicity and high attendance, included performances by classical pianist and violin players, as well as a fiery ballroom dance performance.
The gallery, owned by Olga Arkhangelskaya, was originally opened in 2000 on Fifth Avenue in Naples which she referred to as an Oasis of Russian Art. But after 10 years, with her location tentative due to an anticipated expansion of the Inn on Fifth, she moved out, taking an interim location.
This posed a question regarding the Gallery name – Gallery on Fifth.
"Even though we were no longer on Fifth Avenue, we are still loyal to the art spirit Fifth Avenue projects." Arkhangelskaya says. "We strive to be the people's art gallery, open and friendly to everyone, true connoisseur or beginner."
The story of the gallery is intertwined with the story of its owner. We will begin in Tver Russia where Olga Arkhangelskaya was born. Many Russian artists gain their inspiration from the landscapes of this part of Russia – this is Russia in its essence. Both of her parents are scientists, but art in all forms was always in the air. Her mother often took her and her brother to wonderful guided tours around ancient Russian towns with their fortresses and monasteries: Vladimir, Suzdal, Pskov; beautiful estate palaces – former residences of Russian nobles – numerous around Moscow: Ostankino, Kuskovo, Marfino. This part of Russia is literally saturated with glorious history and art objects – whether it is architecture, a monument, an icon, the realm of folk art, fascinating folk songs, legends, fairy tales.
Everyday life in the former Soviet Union was very much tuned to culture: the country made the best museums, concert halls, theatres available to everyone and art education proliferated. Artists were among the most respected and treasured group of population. To be an art connoisseur one didn't need to be an artist at that time. Olga states that she chose to get a degree in economics – and preferred the predictability and strictness of numbers to the spontaneity and looseness of colors and shapes.
She worked at the Russian Academy of Sciences in the field of macroeconomic forecasting until receiving a scholarship from Georgetown University. She then came to the United States to spend a year at one of the oldest and most prestigious universities in the nation. Arkhangelskaya fell in love with its' campus, library and classrooms. The whole style of teaching was different than in Russia – she felt more involved, more important. The program at the University also allowed her to travel around the country. She visited the most fascinating places and towns: New York, San Francisco, Los Angeles, Salt Lake City. She also visited the Metropolitan Opera, Hollywood, Fisherman's Warf and vineyards, Tabernacle Cathedral. ""America the Beautiful" revealed all its glory and charm for me!", she shares.
Her exploration of American turned her life around 180 degrees from that point on. "I applied to Harvard University and two years later started to work for the World Bank in Washington, D.C. America embraced me. I was so happy building my new career and my new life in America; then suddenly my husband died. He had stayed behind in Russia to run his business as an immigration attorney. Suddenly I was left alone in a wonderful, but still foreign country, with my 10-year-old daughter. The world seemed to be closing down on me. Nothing made sense." Arkhangelskaya says.
After a few dark years she realized she had to reinvent herself, if for no one else but her daughter. Then opportunity in America gave her another chance. This time in the form of art – unpredictable, unstructured, without any rules or boundaries. Olga started to visit art exhibitions at the Russian Embassy – "I needed to find the ground again, preferably familiar ground. It was a healing experience." She said.
Chance, coincidence or fate brought Olga to Naples, Florida, where she found herself walking along Fifth Avenue. The experience prompted her to make a decision – an insane, absurd notion – to start her own business. Here she was a foreign woman, who grow up in an environment discouraging any sign of entrepreneurship, yet she took the step that would change her life.
In October 2000 Arkhangelskaya became an official art dealer and a business owner. It took her several years of learning through mistakes, but finally she had learned the essentials of the art business. "If anybody wants to write a book about what Not to do in the art business – they should come to me for material." But step by step the hard earned experience stated to bring its fruits: Russian art was gaining popularity and many of her clients helped her, being true advocates for the artists that Olga represented and artworks that they were buying from her.
During the past fifteen years the demand for Russian art has experienced an unprecedented growth. There are many reasons for this but and the driving force stems from the unsurpassed artistic value and technical superiority of Russian artworks.
Olga explains, "Two schools exist in the Russian Academic system: The Repin State Academic Institute of Painting, Sculpture and Architecture in St. Petersburg, which leans towards tight realistic painting disciplines, and the Surikov Moscow State Academic Institute of art, which leans towards representational impressionism. The vast majority of Russian Art Currently on the market has been created by graduates of these two schools."
In contrast to other countries, artistic training begins at a very young age In Russia. Students showing a strong aptitude for art are admitted into full-time preparatory programs as early as age 7. When they reach the fourth grade these students will begin drawing nudes from life, and by the 12-th grade they will be able to execute drawings with perfect craftsmanship and likeness. By the time students graduate the preparatory school at age 19, they are prepared to enter the world as fine artists, with skills rivaling most professional elsewhere. However, to be part of the true Russian heritage, students must continue at one of the two academies.
Once they pass the entrance exam and are approved by master instructors, academy students choose a special area of emphasis to study: sculpture, painting, architecture, or monumental works (mosaic and fresco). Students then spend the first three years studying anatomy and other disciplines. The first full year is concentrated on drawing the head…In the sixth and final year, students create one giant painting of sculpture as their final exam. To graduate, students must defend their works before a board of masters. If a piece does not pass, the student must repeat the year.
Another point of added value to Russian art, is the limited quantity of these works. "Art, artists, and the academic system have received financial support from the Russian government for nearly 250 years, but things have changed dramatically since the end of communism in 1991. Russia's current government can't provide the funding it once did, and both the economy and the bureaucracy surrounding the sale of artwork make it difficult for artist to earn a living. The problemis compounded by the current promotion of Modernism, and the state museums' favoritism for more contemporary styles. Many believe that Russia's classical, academic standards of realism are in jeopardy." (ref: Art Connoisseur magazine)
During the past several years there has been a revival of the classic traditions, especially in America. Young American artists are turning to realism and impressionism, and many of them name Russian master among their teachers.
Olga's personal favorite Russian artist is Valentin Serov – the father of Russian Impressionism, the unsurpassed master of a portrait (his most famous work is the portrait of the last Russian Tzar Nicholas the II.
She also references her top influencers as:
• Victor Vasnetsov – the best visual interpreter of Russian Fairy tales
• Mikhail Nesterov – the epitome of Russian soul and spirit.
Modern masters:
• Dmitry and Victoria Levine – named the best living Russian landscape painters
• Igor Korotash – one of the most versatile and most spontaneous painters
• Yana Movchan – the most intriguing classical Stillife artist.
Which brings us back to the relocated gallery from Fifth Avenue, where the knowledge, passion and talent of Olga Arkhangelskaya comes together in artistic form.
Gallery on Fifth (Now called East West Fine Art)
9115 Strada Place, #5130
Naples, Florida 34108
239-220-7503  | www.artorg.net
Open Monday – Saturday
10 am – 6 pm
Sunday 12 – 5 pm