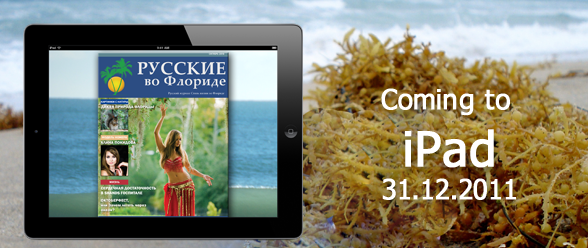 The next step in the develpment of Florida Russian Lifestyle Magazine is quickly approaching. The online journal which began in July 2010 was a quick success in the Russian speaking market, not only in Florida but worldwide. The release of the free iPhone app, which enabled reading the magazine from the Apple iPhone, saw success in multiple countries with almost 50% of the downloads occuring outside the U.S.

The distribution of the magazine to a worldwide audience will take a new step forward as the iPad version prepares for release on New Years Eve, 2011. To date the magazine has had over 11 million page views and an international viewership that included Canada, Israal, Germany, Russia and Ukraine as the primary markets.
"The iPad version will be the most advanced and interactive product we have built so far." said Jef Gray, publisher of the community oriented magazine. "We will combine video, hyperlinks, email, and image galleries all within a single page. This gives advertisers a huge opportunity to show their product or service to a customer in an interactive fashion"
The free iPad app is scheduled to be available on New Years Eve 2011 in the iTunes store.  You can see the prototype demonstration below, via YouTube.